WOLFPACK LINKS
Above links Wolfpack pages
JACK3'S PAGES
Lobo
Journey
Jack3
Jackswolf's Home Page
Blueswolf's Home Page
Jack's Den
Star
Muffin
Boomer
Legend
Some Where
Horse
Memories
WhiteWolf
Taz And Astro
Heart Songs
Wolf
Pride
Angel
Rebirth
Rainbow Bridge
Legende
Together
Brave
Spirit Bear
Bratt Bro
Cowboy
Heart Family
For Love Of A Father
Genertations
.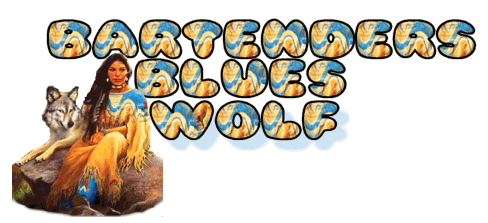 LONELY HOWL
Sometimes The Darkness Seems All Around

And The friendly Voices Of Loved Ones Are Silent
When The Walls Close In
All You See Is The Mirrored Image
Of A Lost Heart
Will That Peace Come Back?
Other Voices, Unknown Voices
Echoing In My Head
Have You Ever Felt So
When Nothing Seems Right
When They Will Never Be Again
Nothing to Hold
Empty Arms, Empty Heart
Walk A lonely Path
An Empty One
Never Ending
Do You Know that Feeling
Of Not Being Heard?
I Am Caling Out
Can You Hear that Cry?
Between The Darkness And The Light
Between The Joy And The Sadness
Will I Be Who I Am Meant To Be?
I Must Come Back Into The Light To Know
Must Leave The Darkness Behind
Help Me

BarTendersBluesWolf

Heart Songs On The Wind
When the heart speaks, angels listen
When you sing from the heart, all listen
It is up to us to help them understand
To see with the eyes of their heart
If is only one person who takes up the song
Sings to others on the winds of peace
That one voice will add harmony to your song
Will reach many more hearts
By standing as one
When a song is written
A heart beat at a time
Heart Songs on the wind
Floats on the breeze
To the wounded hearts
Who cry out for one who understands
A bond is formed, healing begins
Song from one who cares
Listen to the winds that sing
Of love and unity
Open your heart and soul
To Heart Songs on the wind

BarTendersBluesWolf~December 10, 2005.

WhiteWolf
Helping Others Find Their Wings
Flying On The Winds Of Peace
Strong Of Soul, True Of Heart
Never Over Shadowed
Standing In The Light
Standing By Each Other's Side
Accepting, Never Changing Who You Are
Believing In Who You Are
Standing Tall Together
Legends Of The Heart
Jack3


.
CHAT ROOMS